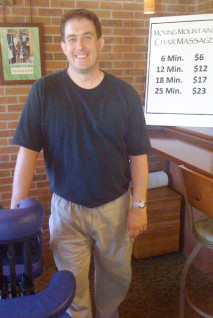 Chair Massage at Alfalfa's is temporarily paused due to the COVID situation. We will reopen in accordance with guidance from state and local health authorities.
---
With Jesse Locke, CMT, and his massage team

Chair massage is an excellent way to get a tune up while not having the formality of a table massage session. It is often conducted in public settings such as a café or in an office, on a special massage "chair" and it allows the therapist to target specific or chronic areas of tension or pain. It is also a great way to slow down, de-stress and take stock of how your body is actually doing for a few minutes during a busy day. Anywhere from a few minutes to a half hour can leave you refreshed, looser and ready to face the rest of the day!
Our chair massage therapists are available for special events and corporate settings.
Chair Massage Rates
06 minutes $6
12 minutes $12
18 minutes $17
25 minutes $23